Disaster Restoration in Myrtle Beach
A property disaster can be the result of many different factors. Tropical cyclones can cause property destruction, pipe bursts can cause indoor flooding, and kitchen fires can lead to severe smoke damage. All of these situations are considered disasters by the 911 Restoration of Myrtle Beach. Our office is open 24/7/365, so you never have to wait to call for help. Our technicians will respond immediately to emergencies involving water, with a guaranteed arrival time within 45 minutes of receiving your call. Even in non-urgent situations, you can expect us to facilitate your needs as soon as possible.
911 Restoration of Myrtle Beach provides property owners with free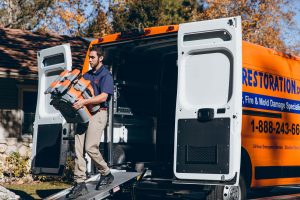 visual inspections. By assessing the damage, we can give you an estimate of the disaster restoration services needed to recover your property.
Our repair techs are experts at mitigating water, and fire restoration in Myrtle Beach SC, sewage backup cleanup, and disasters. We will conduct complete water extraction and drying services, along with making all the necessary structural repairs.
Regardless of the situation, you can expect our technicians to formulate a recovery strategy specifically designed for you. As a locally owned and operated restoration company, 911 Restoration understands how the climate in Myrtle Beach impacts homes and businesses.
Call us at (843) 242-0309 and please allow us to offer you a free visual inspection. We provide storm restoration services in Myrtle Beach.
Although disasters are likely to happen at any time, the late summer humidity and precipitation can have a significant impact on residential and commercial properties throughout the area. 
Call 911 Restoration the moment you need storm restoration in Myrtle Beach. Our highly trained technicians will show you that a Fresh Start is possible even under the most critical circumstances.
Emergency Water Damage Restoration After a Thunderstorm
Summer thunderstorms in Myrtle Beach can be intense. Although rare, tornadoes can also occur in the area. Torrential rain and powerful winds brought on by these storms can cause significant property damage.
911 Restoration of Myrtle Beach will provide you with emergency water damage restoration as soon as a storm hits your home or business. Our technicians will conduct complete water extraction, drying, and dehumidifying services as soon as we arrive.
On top of water damage, the humidity created by these storm systems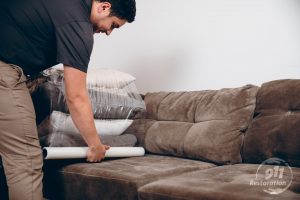 can lead to mold infestation within a couple of days. By thoroughly drying the property, we can prevent mold remediation infestations and rotting issues.
Our repair techs will use infrared leak detection technology to ensure we find all the moisture spots hidden inside walls, ceilings, and flooring. However, torrential rain can cause more than just ceiling leaks.
Sometimes tropical storms can create area floods that can seep into your property's foundation. We understand the urgency of flooding situations and will respond with emergency flood cleanup services.
During times of critical flooding, we may have to remove your belongings from the premises. We will provide all the pack-out and storage services needed to keep your items safe during the water damage restoration process. Call us at (843) 242-0309  and learn how we can help.
So, call 911 Restoration of Myrtle Beach as soon as a storm affects your home or business. Our professionals will give you peace of mind with our expert service for storm damage repair in Myrtle Beach.
Full-Service Disaster Restoration is Only a Phone Call Away
911 Restoration of Myrtle Beach knows how challenging it is to deal with the aftermath of a disaster. Our staff wants to make this time as easy on you as possible, which is why we provide complete customer care.
While we offer 24/7 water damage restoration, we also provide around-the-clock customer service. You can contact us at any time to receive assistance with your property disaster, whether you need immediate help or have questions about our rates.
Understandably, you will have concerns about the repair costs. As well as keeping our prices competitive, 911 Restoration of Myrtle Beach also accepts all types of insurance.
Our staff members will provide you with a free insurance consultation if you need assistance with your insurance policy. By having a professional go over your plan, we will help you fluently understand your coverage.
The more information your insurance company has, the better coverage you will receive. Our technicians will help you take inventory of your losses to submit to your provider. We will file your claim for you and directly bill your insurance provider for all the disaster repairs. 
Our repair techs are IICRC-certified experts at repairing storm damage emergencies and will waste no time conducting same-day services.
Call us at (843) 242-0309 and see how we can help you.
You can trust 911 Restoration of Myrtle Beach to guide you through every aspect of disaster restoration, from water cleanup to insurance logistics. If you need hurricane restoration in Myrtle Beach call our office today, and we will turn your disaster into the Fresh Start you deserve!
Serving the communities of Conway, Dillon, Effingham, Florence, Galivants Ferry, Georgetown, Johns Island, Lake City, Little River, Longs, Marion, Mullins, Murrells Inlet, Myrtle Beach, North Myrtle Beach and surrounding areas