Water Damage Restoration in North Myrtle Beach
For a full recovery from water damage in North Myrtle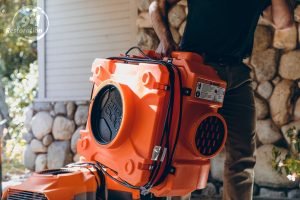 Beach and the surrounding area, call 911 Restoration. We provide a Fresh Start after a frozen pipe burst, flooded basement, tropical storm, or any other disaster. Our phone lines are open to you 24/7/365, and when your call comes in, our crew is at your door in 45 minutes or less.
As a locally owned and operated company, we take great pride in the properties that make Myrtle Beach beautiful. We consider it our responsibility to protect and preserve these homes and businesses with expert water damage restoration and mold remediation. All our technicians are IICRC certified and held to the highest standards. We have the resources of a nationwide company to ensure we provide you with the most current and effective solutions. We know that a water damage incident is always a nightmare for the property owner, whether it's a pipe burst or a flooded basement. Your greatest asset is a stake, and the road to recovery feels long, complicated, and expensive. Our goal is to help you find peace of mind in the midst of this nightmare. We anticipate your questions and provide solutions before you even have to ask. Our water damage restoration technicians communicate clearly and often so you always know what they're doing and why.
Our team also works hard to make water damage restoration and mold inspection affordable. We provide a free insurance consultation, clarifying which services are covered before the process even begins. Insurance can get complicated, as the umbrella of water damage restoration includes everything from water removal to roof repair. We make sure you know what to expect, and we help you file a claim to ensure you get every cent you deserve.
You may feel like this is the end for your property. We're determined to make it a Fresh Start. For compassionate, comprehensive relief from a pipe burst or any other water disaster, call 911 Restoration.
Expert Water Damage Restoration in North Myrtle Beach
We get countless calls for water removal in North Myrtle Beach. Local properties are constantly at the mercy of a wet climate, from tropical storms to hurricanes to ice dams. Fortunately, our water damage restoration technicians are prepared to handle any eventuality.
Our crew is fast and strategic. They examine your unique situation to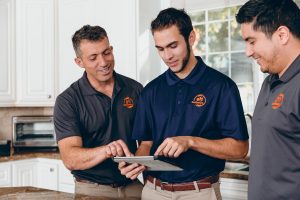 determine the best methods for minimizing damage and preventing further destruction. If you have any items in harm's way, they pack out those belongings and store them away. They move fast to stop the invasion of water with emergency roof repair, storm repair, boarding up, and other services. They bring in wet vacs to take care of water removal and use professional blowers to dry out your space.
If you've had a sewage backup, our experts handle that quickly and with full attention to your health and well-being. Black water brings dangerous organisms into your home or business, including bacteria and parasites. The water damage restoration workers thoroughly sanitize your space to ensure today's disaster doesn't cause health issues down the road.
Beyond these standard water removal and cleanup services, our technicians provide quality damage repairs. Whatever is broken, weak, stained, or contaminated, they replace it. In the end, you're left with a home or business that feels brand new.
A pipe burst or flooded basement is only a crisis if you don't get the help you need. If you call 911 Restoration of Myrtle Beach, you can count on a full recovery. Reach out now, and our water damage restoration crew will be there in 45 minutes or less.
A Fresh Start with Water Damage Repair and Mold Remediation
Whether it's a frozen pipe burst, sprinkler malfunction, or a flooded basement, this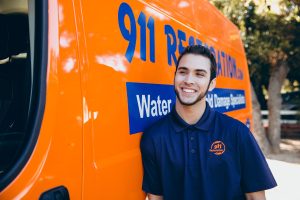 disaster is an opportunity in disguise.
That's what we believe at 911 Restoration of Myrtle Beach. Everything we do is driven by the belief that every challenge gives us a chance to rebuild better than before. That includes your water damage incident. Our Fresh Start technicians arrive at your property with the goal of leaving your property in brand new condition.
With this objective in mind, we train every member of staff in all aspects of property repair. Whether your roof has been destroyed by an ice dam or your carpet is contaminated, they fix it.
Our techs are also certified mold remediation specialists. After a water damage disaster, our experts conduct a full mold inspection. This is especially important in the case of a flooded basement. Mold spores love a damp, dark space, and basements are especially susceptible to contamination. Our mold inspection crew uncovers fungus wherever it hides. They then conduct mold remediation using safe, effective methods. By the time they leave, you can be confident your property is clean and healthy.
For a truly Fresh Start, don't just seek out a water removal company. Turn to the team who does it all, from sewage extraction to mold inspection. Call 911 Restoration of Myrtle Beach today.
Servicing the cities of Alcolu, Andrews, Aynor, Bethera, Cades, Calabash, Conway, Cordesville, Coward, Dillon, Effingham, Florence, Fork Gable, Galivants Ferry, Georgetown, Greeleyville, Green Sea, Gresham, Grover, Hamer, Hemingway, Huger, Jamestown, Johns Island, Johnsonville, Kingstree, Lake City, Lake View, Lane, Latta, Little River, Longs, Loris, Lynchburg, Marion, McClellanville, Mullins, Murrells Inlet, Myrtle Beach, Nesmith, New Zion, Nichols, North Myrtle Beach, Ocean Isle Beach, Olanta, Pamplico, Pawleys Island, Russellville, Salters, Scranton, Sellers, Shallotte, Sunset Beach Supply, Timmonsville, Tubeville, and surrounding areas.