Commercial Restoration
Owning a commercial property requires a level of maintenance that cannot go overlooked. By not living in the building, issues can go unnoticed for quite some time. This makes it crucial to pay attention to signs of property damage whenever you are on site. If you discover leaks, flood damage, or sewage backups, you can depend on 911 Restoration of Myrtle Beach for speedy water damage repairs. Our technicians are available 24/7/365, so you can call us the moment you need water extraction services. Regardless if it is day or night, we will arrive within 45 minutes of receiving your call.
911 Restoration of Myrtle Beach provides property owners with free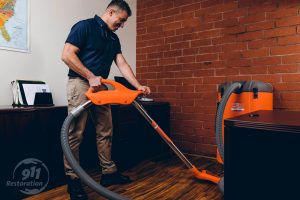 visual inspections. During the assessment, we will formulate an estimate of the restoration services needed to repair your property.
Although leak and flood damage are the most common problems to affect commercial properties, the professionals at 911 Restoration of Myrtle Beach realize that commercial restoration involves more than just water damage restoration.
Along with water mitigation, our technicians are experts at mold removal, sewage backup cleanup, fire & smoke Myrtle Beach, and disaster repairs.
Call us at (843) 242-0309 and please allow us to offer you a free visual inspection.
No matter the circumstances, your safety and well-being are our top priorities. 911 Restoration of Myrtle Beach puts customer service first to ensure that you feel taken care of throughout the entire repair process.
So, call 911 Restoration of Myrtle Beach as soon as you need restoration assistance with your commercial property. You will have peace of mind knowing that we care and understand what you need to get through any disaster.
Emergency Commercial Water Extractions to Prevent Mold Growth
911 Restoration of Myrtle Beach offers a comprehensive approach to water damage. We understand that moisture can impact the structural integrity of your building by rotting wood and causing mold growth.
Water can invade your commercial property in several ways. A ceiling leak, sewage backup, or pipe burst can all result in extensive property damage.
These disasters can occur at any time, which is why we are available around the clock. It is vital to your recovery that we assist you the moment you need commercial restoration.
Our technicians will conduct complete water extraction, drying, and dehumidifying services so you can get your business up and running again as soon as possible.
We will help prevent structural issues and mold growth by mitigating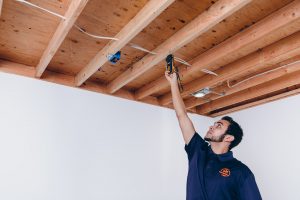 leaks and floods quickly. Our repair techs use infrared leak detection technology to ensure we find water damage hidden inside walls, ceilings, and flooring.
Drying and dehumidifying your building is imperative to prevent mold infestations from spreading. Mold spores can begin to grow within 24 hours of contacting moisture, which is why we provide same-day flood repair services.
If mold has already started growing inside the building, we will promptly administer mold decontamination. Mold can pose health risks to those spending time on the property, making it crucial to stop the infestation at the source.
Not only will we eradicate mold growth, but our repair techs will implement prevention measures to stop future infestations.
Call us at (843) 242-0309  and learn how we can help.
Call 911 Restoration of Myrtle Beach when you need help from a water mitigation company that can provide you with full-service commercial restoration. We will make your building clean and safe for everyone to enjoy.
Complete Guidance Through all Commercial Restoration Procedures
It is essential to have a restoration company by your side that you can trust. 911 Restoration of Myrtle Beach realizes this ordeal can be challenging, but our staff will stay by your side throughout the repair process.
The staff at 911 Restoration of Myrtle Beach is capable of helping you with every aspect of the commercial restoration, from conducting water damage cleanup to answering questions about your insurance policy.
We provide free insurance consultations if you need help understanding your insurance plan. Our staff members will directly bill your provider and file your claim for you. We want to help you get the coverage you are entitled to receive.
The more information your insurance company receives, the more coverage you will get. Our technicians will help you take inventory of the on-site damages to create an itemized list of your total losses.
You can depend on our staff to facilitate all your needs with professionalism and respect. Customer service is always at the forefront of everything we do at 911 Restoration of Myrtle Beach. Call us at (843) 242-0309 and see how we can help you.
We want you to have total confidence in our ability to recover your building from any situation. This is why, unlike other disaster cleanup companies, we employ IICRC-certified professionals who are licensed, bonded, and insured for your protection.
Call our office as soon as you need commercial restoration services. Our technicians will turn your property disaster into the Fresh Start you deserve.
Serving the communities of Conway, Dillon, Effingham, Florence, Galivants Ferry, Georgetown, Johns Island, Lake City, Little River, Longs, Marion, Mullins, Murrells Inlet, Myrtle Beach, North Myrtle Beach and surrounding areas