Mold Removal in Myrtle Beach
It doesn't take much for mold and mildew to infest a property. A warm, damp environment can cause mold spores to grow within 24 hours. 911 Restoration of Myrtle Beach understands that prompt mold remediation is crucial in containing an infestation and minimizing the damage. You can count on our technicians to respond quickly with comprehensive mold removal services. We will take care of every aspect of the mold problem, including repairing any present water damage.
As soon as we arrive, our repair techs will provide the property owner with a free mold inspection. During this initial assessment, we will check for mold and water damage. By using infrared leak detection technology, our technicians will ensure no moisture spots go overlooked.
Water damage restoration is an integral part of mold removal. The only way to eradicate an infestation is to mitigate any leak and flood damage contributing to mold growth. You can trust us to provide you with the water and mold remediation needed to restore your property entirely.
We want you to feel safe and secure when you work with our mold specialists. 911 Restoration of Myrtle Beach is licensed, bonded, and insured to ensure we protect you in every situation.
When you need mold cleanup and mold removal service in Myrtle Beach, Georgetown, Conway, or anywhere else in the surrounding areas, 911 Restoration will provide you with full service for both your residential and commercial properties.
Our mission is to get your property to pass our mold clearance test, and we always achieve our goals. So, call 911 Restoration of Myrtle Beach at the first sign of mold or water damage on your property. Call us at (843) 242-0309 and please allow us to offer you a free visual inspection.
Complete Mold Remediation Involves Water Damage Repairs
When leak and flood damage goes unmitigated, the chance of mold growth goes way up. Mold spores can start growing throughout the property within a matter of days. The only way to successfully eliminate an infestation is by conducting thorough water damage cleanup.
911 Restoration of Myrtle Beach understands that there is no time to waste when dealing with water damage and mold. You can expect us to respond quickly to minimize the damage as much as possible.
When our technicians conduct the mold inspection, we will check extensively for leaks, flooding, and plumbing issues. If there are any active water emergencies, such as pipe bursts or ceiling leaks, we will promptly make all the necessary repairs.
By administering thorough water damage restoration services, we will not only eradicate the current mold problem, but we will also prevent future growth. Our mold experts focus on structural drying and dehumidifying procedures to ensure mold prevention. Call us at (843) 242-0309  and learn how we can help.
Along with water extraction and drying services, we conduct mold decontamination. Indoor mold can be potentially hazardous to your health, making sanitization measures vital.
Your safety is always of the utmost concern to our specialists, and we make sure to provide meticulous mold cleanup measures. Call 911 Restoration of Myrtle Beach to receive help from a team that cares and understands what you need from a restoration company today!
A Water Mitigation Company that Specializes in Mold Cleanup
Although 911 Restoration of Myrtle Beach is known as a water mitigation company,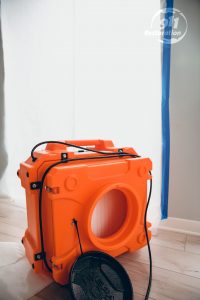 we are just as much a mold remediation business. Our mold remediation specialists in Myrtle Beach are experts in the mold removal field, and we have years of experience in eradicating infestations.
911 Restoration will guide you through all aspects of mold restoration. Our staff is happy to answer your questions and provide you with all the information you need to feel comfortable about the situation.
Our repair techs are aware of the risks that mold spores bring to homes and businesses. Hazardous spores can impact your health, causing allergy attacks and respiratory issues.
Since you can't determine whether mold is toxic or benign on sight, professional mold sampling and testing services are required. If you wish to receive sampling services, our technicians will facilitate testing at a third-party laboratory.
We want to give you peace of mind that your property is safe for you and your loved ones. If the mold is found to be toxic, our technicians will take all the necessary mold decontamination steps. When you need emergency mold damage restoration in Myrtle Beach, please call 911 Restoration.
There is nothing our team won't do to make sure you feel at ease about the mold remediation. We offer affordable mold removal rates and accept insurance for water damage restoration services.
You can have total confidence in our ability to mitigate even the most extensive mold intrusions. 911 Restoration of Myrtle Beach employs highly qualified mold experts that are IICRC-certified by the Institute of Inspection, Cleaning, and Restoration.
No matter how expansive the mold growth may be, 911 Restoration of Myrtle Beach will show you that a Fresh Start is possible. So, call our technicians for mold cleanup services today. We have full-scale service in the mold remediation business in Myrtle Beach.