Water Damage Restoration in Myrtle
Beautiful coastal living comes at a cost. Business and home owners in Myrtle Beach are all too familiar with the yearlong threat of water damage. From winter storms to tropical storms, frozen pipe bursts to flooded basements, local properties are always vulnerable. Fortunately, 911 Restoration is open to you 24 hours a day, 365 days a year. If you need water damage restoration in Myrtle Beach or the surrounding area, our technicians are there in 45 minutes or less. And they do more than simple water removal. They give you a Fresh Start.
911 Restoration of Myrtle Beach is a locally owned and operated branch of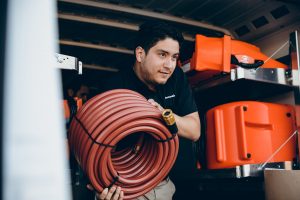 a nationwide company. We provide personal, neighborly service backed by the greatest resources in the restoration industry. Our water damage restoration and mold remediation staff is IICRC certified and trained in all aspects of property restoration. We service commercial and residential properties with everything from water removal to property repairs and mold cleanup. Our water damage restoration technicians take every flooded basement and backflow pipe burst personally. They treat your property as if it were their own, working hard to reach the highest standard of service. To our team, you're not just a customer; you're a neighbor. We do our very best to give you peace of mind in the midst of disaster. Our entire staff works with total transparency. We provide a free visual inspection (for property owners only), and a free insurance consultation. A disaster as complicated as water damage can call for a wide range of services. Whether you need water removal, roof repair, or mold inspection, we clarify which services your provider pays for. A water damage restoration staff member even files a claim for you and bills the insurance company directly.
A flooded basement may feel like the end of the world, but with 911 Restoration, it's a new beginning. Call now.
Emergency Business and House Flood Cleanup
When disaster strikes, you need a quick response from a reliable water damage company. If you own a home, a flooded basement or sewage backup interrupts your daily life, contaminates your refuge, and threatens to destroy the sanctuary you worked so hard to create. If you own a commercial property, a frozen pipe burst could force you to shut your doors and lose profits.
In either situation, you can turn to 911 Restoration of Myrtle Beach for a quick recovery.
Our water damage restoration technicians are there for you in 45 minutes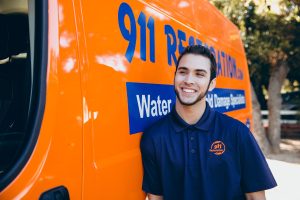 or less, even in the dead of night. They promptly assess the situation and move fast to minimize damage. Depending on the needs of your situation, you can expect emergency services such as:

Water removal

Sewage extraction

Boarding up

Storm repair

Roof repair

Packing out and storing at-risk belongings

Leak detection

And more
The first order of business is to eliminate all water and sewage from your property. Then, the water damage restoration workers bring in heavy duty blowers to dry the area. Structural drying helps prevent water damage, but some destruction may be unavoidable depending on the extent of your disaster. In that case, our expert water damage restoration technicians take extra steps to repair the problem. Our ultimate goal is to leave you with a property that feels brand new. By the time our team leaves your home or business, there will be no evidence of your pipe burst or basement flood.
Don't settle for basic cleanup. Choose a Fresh Start. Call 911 Restoration for full-service property restoration and water removal in Myrtle Beach.
Full-Service Mold Remediation in Myrtle Beach
Mold contamination is a common worry among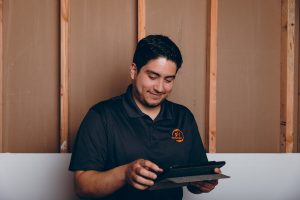 property owners in the Myrtle Beach area. Any form of water damage can easily lead to an infestation, whether it's a frozen pipe burst or minor air conditioner leak. Almost every material in your home or business absorbs water like a sponge. Within 48 hours, that damp surface can develop a thriving mold colony.
That's why our water damage restoration crew completes every flood cleanup job with a mold inspection. If you've had water removal performed by another contractor but did not receive a mold inspection, call us today. Without immediate mold remediation, an infestation destroys your property and creates a real health risk within your home or business. Our mold inspection experts know how to find every growth, including mold hidden in walls and pipes. Our mold remediation process is safe and reliable. The expert mold removal crew gets rid of each colony carefully, so they don't spread spores or mycotoxins. After mold remediation, they dehumidify the structure where mold developed. This helps prevent a repeat infestation.
It's important to call on certified experts rather than attempting mold removal yourself. Do-it-yourself techniques are unreliable and dangerous to your health.
For comprehensive mold remediation and total peace of mind, call 911 Restoration of Myrtle Beach.
Servicing the cities of Alcolu, Andrews, Aynor, Bethera, Cades, Calabash, Conway, Cordesville, Coward, Dillon, Effingham, Florence, Fork Gable, Galivants Ferry, Georgetown, Greeleyville, Green Sea, Gresham, Grover, Hamer, Hemingway, Huger, Jamestown, Johns Island, Johnsonville, Kingstree, Lake City, Lake View, Lane, Latta, Little River, Longs, Loris, Lynchburg, Marion, McClellanville, Mullins, Murrells Inlet, Myrtle Beach, Nesmith, New Zion, Nichols, North Myrtle Beach, Ocean Isle Beach, Olanta, Pamplico, Pawleys Island, Russellville, Salters, Scranton, Sellers, Shallotte, Sunset Beach Supply, Timmonsville, Tubeville, and surrounding areas.