Myrtle Beach Sanitization Services
The United States, as well as the world, is being gripped by a global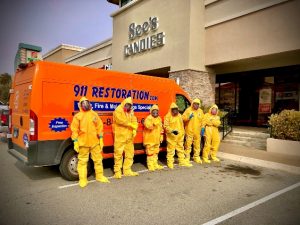 crisis. The coronavirus pandemic has infected hundreds of thousands of people, and is drastically changing our day-to-day lives. Myrtle Beach residents are taking refuge inside of their homes and local restaurants and retailers are closing their doors, resulting in massive layoffs. When you need covid 19 cleaning services in Myrtle Beach, call 911 Restoration of Myrtle Beach.
Call us at (843) 242-0309  and learn how we can help.  
This pandemic has dramatically affected our day-to-day lives as we now know them. Anyone could be infected and unknowingly spread the disease. This is because people can not have any signs or symptoms of coronavirus up to 14 days after the initial infection. When they do finally show symptoms, these may include:
A dry cough

A fever

Severe difficulty breathing

Fatigue or tiredness

Aches and pains
 In order to not spread the virus to others, the CDC recommends that everyone wash their hands for at least 20 seconds multiple times a day, cover their faces with masks when going to the food store or pharmacy, practice social distancing, and stay at home as much as possible.  
During this troubling time, it's comforting to know that local businesses still have your back. 911 Restoration of Myrtle Beach understands your concerns.
Having your commercial or residential property professionally sanitized will deep clean it on a microscopic level. This means that it will drastically reduce the number of germs that may be lurking on every surface of your home or store. 911 Restoration of Myrtle Beach has the experience and tools to safely and effectively sanitize your building in no time at all.
Our commercial restoration services also include fire damage, mold removal, water damage restoration, etc.
This is why we're here to fully sanitize and deep clean your house or business in order to provide a safe environment for all. Our technicians are IICRC-Certified follow CDC and EPA protocols and are available 24/7/365. 911 Restoration is the best service provider company in overall covid 19 cleaning companies in Myrtle Beach
Call us at (843) 242-0309 and see how we can help you.
We have full-scale service in the sanitation business in Myrtle Beach. Give us a call today to get the peace of mind you deserve. We want to provide you with the fresh start that you need during this troubling time.