Water Damage Restoration in Johns Island
If you need water damage restoration in Johns Island, make 911 Restoration the first and only call you make. We're here for you 24/7/365, with a guaranteed arrival time of 45 minutes or less. Our IICRC certified water removal technicians can handle any disaster, including frozen pipe bursts, flooded basements, and tropical storm damage. They work with compassion and clear communication, putting your mind at ease and providing you with a Fresh Start.
Water damage can be extensive and devastating, especially in Johns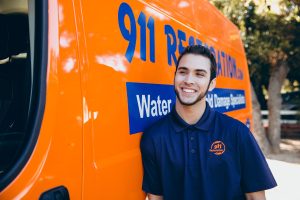 Island. The local climate brings major water disasters such as winter storms, hurricanes, and floods. Violent winds rattle your windows and send trees crashing into your home or business. In winter, you may experience roof destruction due to an ice dam or deal with frozen pipes, ultimately resulting in a pipe burst. Whatever the issue, our water damage restoration technicians are trained and equipped to solve it. They cover every step of the restoration process, from initial water removal to final structural repairs and mold remediation. Along the way, every member of our staff works hard to make sure you feel supported and protected. 911 Restoration is licensed, insured, and bonded. Our water damage restoration workers are certified in property restoration. We work with total transparency, including a free visual assessment (for property owners only). We even provide full support throughout the complicated insurance process. An expert on staff sits down with you for a free insurance consultation, explaining which services your provider will pay for. Then, they ensure you get your full benefits by assisting with loss itemization and claim filing.
You've been through a lot. But with 911 Restoration of Myrtle Beach on your side, a Fresh Start is just around the corner. Call today for fast, compassionate service.
Fast, Reliable Water Removal in Johns Island
One of the most difficult aspects of a pipe burst or flooded basement is that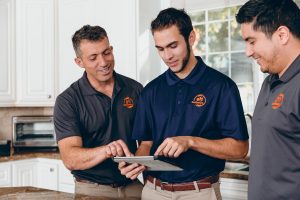 you have to depend on a complete stranger to help you recover. Your home or business is your greatest asset. The time and money you've poured into it is all your own, and it's hard to trust someone else to care for it as seriously as you do.
We can assure you, empathy is the driving force behind our mission at 911 Restoration. Our water damage restoration technicians understand what you're going through and are determined to provide peace of mind.
They do this first by treating your frozen pipe burst or other disaster with the urgency it deserves. They don't leave you waiting and worrying as water seeps into the structure of your property. Our team guarantees an arrival time of 45 minutes or less, and they stick to that promise, even in the dead of night.
When they arrive, they work at top speed to eliminate all moisture from your home or business. Efficiency is key for minimizing damage. Whether you require boarding up, roof repair, storm repair, water removal, or sewage extraction, they get it done. They dry your property to its core using professional fans. Finally, they make any repairs needed to leave your home or business in brand new condition. This includes a mold inspection and mold remediation.
Don't think of us as just another water damage restoration company. Count on us to be an ally in your recovery from water damage in Johns Island and beyond.
The Importance of a Mold Inspection After a Flooded Basement
Mold spores move quickly when they have access to a damp surface. If you've recently had a frozen pipe bust, flooded basement, sewage backup, or any other water disaster, you're at an increased risk of mold development. To keep yourself, your property, and those around you safe, you need a mold inspection right away.
It's especially important to order a mold inspection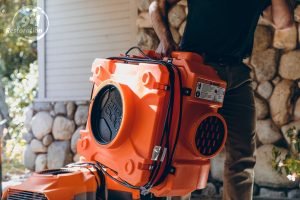 when you're recovering from a flooded basement. Mold thrives in darkness. Concrete absorbs and stores water, making it especially difficult to dry the space after a water incident.
Many property owners are tempted to put off a mold inspection or attempt mold removal using so-called home remedies. But mold is both sneaky and difficult to eliminate. Sometimes a colony growing in plain sight is a signal that there could be mold hidden inside your walls. Without a professional mold inspection, you can't be sure that you've actually addressed the complete infestation. It's also important to turn to a certified mold remediation specialist because mold removal can be dangerous. As you scrub at an infestation, you expose yourself to the dangerous particles certain fungi release. Our mold cleanup experts know how to eliminate your infestation in a manner that is both safe and effective. Just as important, they dehumidify the site of the infestation after the mold is gone. This eliminates the dampness that was so inviting to mold in the first place, reducing the risk of new growth.
Getting rid of mold is easier and more affordable than you think. It also keeps you healthy and saves money in the long run. For professional mold remediation, call 911 Restoration of Myrtle Beach today.
Servicing the cities of Alcolu, Andrews, Aynor, Bethera, Cades, Calabash, Conway, Cordesville, Coward, Dillon, Effingham, Florence, Fork Gable, Galivants Ferry, Georgetown, Greeleyville, Green Sea, Gresham, Grover, Hamer, Hemingway, Huger, Jamestown, Johns Island, Johnsonville, Kingstree, Lake City, Lake View, Lane, Latta, Little River, Longs, Loris, Lynchburg, Marion, McClellanville, Mullins, Murrells Inlet, Myrtle Beach, Nesmith, New Zion, Nichols, North Myrtle Beach, Ocean Isle Beach, Olanta, Pamplico, Pawleys Island, Russellville, Salters, Scranton, Sellers, Shallotte, Sunset Beach Supply, Timmonsville, Tubeville, and surrounding areas.