Water Damage Restoration in Florence
From backflow pipe bursts to tropical storms, water damage is an ever-present danger in Florence. It's hard to predict when you'll need water damage restoration, but one thing is certain: 911 Restoration will be there. We provide water removal and emergency flood damage cleanup at a moment's notice. Our expert technicians are on standby 24/7, and we guarantee an arrival time of 45 minutes or less.
911 Restoration of Myrtle Beach is known as the Fresh Start Company.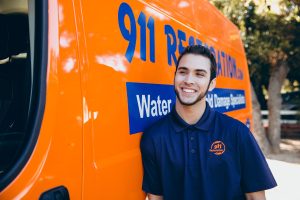 This is because we offer full-service water damage restoration to make sure your home or business feels brand new again. Our IICRC certified staff handles every aspect of property repair. That includes water removal, structural drying, repairs, and even mold inspection and mold remediation. They are ready for any disaster that comes your way, from hurricanes and winter storms to frozen pipe bursts and flooded basements.
We love our local community, and we work hard to protect our neighbors from water damage in Florence. Our water removal crew takes care of you as well as your property. They understand the shock and worry that comes with a pipe burst or sudden storm damage. They know your mind is swimming with questions. Your dedicated water damage crew anticipates your needs and provides simple solutions. We even offer a free insurance consultation so you know exactly which expenses your provider pays for. An expert on staff files your claim for you and we bill your provider directly.
No flooded basement or storm-ravaged property is too much for 911 Restoration. No matter what you've been through, you can count on us for a Fresh Start. Call now for fast, compassionate service.
24 Hour Water Damage Restoration in Florence
Whether it's a frozen pipe burst, flooded basement, or sewage backup, water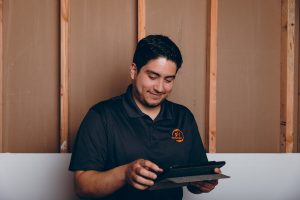 damage is always an emergency. A property flood may lead to rotting, warping, structural weakness, mold, or several other forms of destruction. The sooner you receive water removal service, the better your odds of avoiding costly flood damage.
Our water damage restoration technicians respect the urgency of your situation. We keep our phone lines open 24 hours a day, every single day of the year. Call any hour of the day or night and expect a water removal crew at your door in no more than 45 minutes.
When the team arrives to deal with your frozen pipe burst or flooded basement, they move quickly. If you have any belongings at risk of damage during the cleanup process, they take care of it. Our water damage restoration workers pack out those items for safekeeping. They do whatever has to be done to stop the invasion of water. Emergency services include boarding up, roof repair, storm repair, leak detection, water removal, and much more.
The cleanup staff brings in professional fans to dry and dehumidify your property. The structure can absorb and store moisture, so structural dehumidifying is essential for avoiding long-term damage. Then, before our water damage restoration crew leaves, they test for damages and conduct a mold inspection. 
Business and homeowners alike can always count on 911 Restoration for speedy water removal in Florence and beyond. We care about helping you move on from this disaster swiftly and completely. If you've experienced a pipe burst, flooded basement, or any other water incident, call us now.
A Fresh Start with Water Damage Repair and Mold Remediation
At 911 Restoration of Myrtle Beach, we work by the Fresh Start philosophy. This is our belief that every disaster is really an opportunity for a new beginning. For customers like you, this means we don't just provide basic water removal. We fully restore your home or business so it feels stronger, brighter, and better than ever.
Our water damage restoration professionals complete every job with structural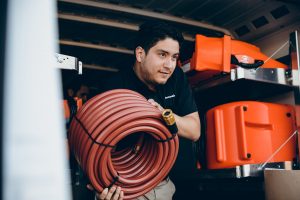 testing and a mold inspection. These experts are trained in property restoration, ready and able to restore any damaged structure.
A mold inspection is especially important following water damage. Mold spores can create an infestation with less than 48 hours of contact with a damp surface. Without immediate mold remediation, that growth can cause long-term damage to your property and your health. Fungus devours the structure of your home or business. It releases dangerous particles into the air you breathe, potentially causing health problems ranging from asthma to heart issues. 
Our flood cleanup and mold remediation experts are determined to prevent today's disaster from turning into tomorrow's mold infestation. They inspect thoroughly for mold and handle any necessary mold removal themselves. Their mold remediation techniques include structural dehumidifying to prevent the recurrence of fungus.
If you have a flooded basement or any other form of water damage, count on 911 Restoration to provide a full recovery. From water removal to mold decontamination, we do it all.
Servicing the cities of Alcolu, Andrews, Aynor, Bethera, Cades, Calabash, Conway, Cordesville, Coward, Dillon, Effingham, Florence, Fork Gable, Galivants Ferry, Georgetown, Greeleyville, Green Sea, Gresham, Grover, Hamer, Hemingway, Huger, Jamestown, Johns Island, Johnsonville, Kingstree, Lake City, Lake View, Lane, Latta, Little River, Longs, Loris, Lynchburg, Marion, McClellanville, Mullins, Murrells Inlet, Myrtle Beach, Nesmith, New Zion, Nichols, North Myrtle Beach, Ocean Isle Beach, Olanta, Pamplico, Pawleys Island, Russellville, Salters, Scranton, Sellers, Shallotte, Sunset Beach Supply, Timmonsville, Tubeville, and surrounding areas.