Water Damage Restoration in Georgetown
Call 911 Restoration of Myrtle Beach for water damage restoration in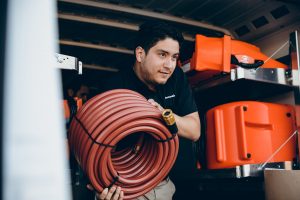 Georgetown. Our technicians are experts in everything from frozen pipe bursts to hurricane damage to flooded basements. They're available at a moment's notice, even in the dead of night. And they work hard to give you a Fresh Start after water damage.
Every member of our water damage restoration staff has completed rigorous training to bring you top-tier service. These experts are IICRC certified and know exactly how to make your property brand new after a disaster. They've been handling water damage in Georgetown for quite a while, and they've seen it all. Tropical storm damage, roof destruction from ice dams, frozen pipe bursts… whatever you're going through, they've been there. And they have the skills and knowledge to get you to the other side. At 911 Restoration, we focus on giving our neighbors a Fresh Start. This means turning your water nightmare into a bright, new beginning for you and your property. Our water damage restoration crew handles everything you need to make a full recovery from a flooded basement or storm destruction. They repair your roof, restore your drywall, replace flooring, and even perform mold remediation.
Along the way, your dedicated water damage restoration crew communicates with you so you're always in the loop. You know what's happening to your property and why. We offer a free visual inspection (for property owners only) as well as a free insurance consultation. So many property owners feel overwhelmed trying to make sense of their policy. At 911 Restoration, we do that for you. A water damage restoration staff member explains your coverage in clear terms. You know which services your provider pays for, from water removal to mold inspection. Then, our experts file your claim for you.
A Fresh Start is waiting for you on the other side of this disaster. And with 911 Restoration on your side, you can get there faster and easier than you thought possible. Call now for immediate peace of mind.
24-Hour Emergency Water Removal in Georgetown
When you have a flooded basement or a frozen pipe burst, you need a contractor who takes your situation seriously. You find that in 911 Restoration. Our water damage restoration technicians put themselves in your shoes. They treat your disaster with the urgency it deserves, arriving at your property in 45 minutes or less, whether it's day or night.
Speed truly is everything when it comes to water removal. Our crew snaps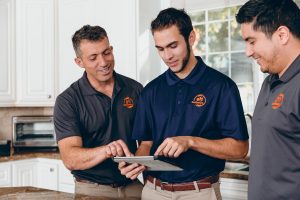 into action, taking every step necessary to get water off your property. They have you covered with services such as:

Emergency roof repair

Emergency boarding up

Emergency storm repair

Water removal

Sewage extraction

Leak detection

And more
First, they get rid of the water. Then, they dry your space with professional fans. Once your home or business is bone dry, they test for structural damage. Water disasters frequently lead to issues such as rotting or warping. The structures of your property may become weak, creating an unsafe environment. Our technicians check for issues such as these and repair the damage they discover. By the time they leave your home or business, you have a property that's not just repaired—it's in its best-ever condition.
Frozen pipe bursts, flooded basements, and storm damage can feel like the end for your property. With 911 Restoration, these disasters mark the beginning of a Fresh Start. Call us today. 
Make a Full Recovery with Expert Mold Remediation
There is another consequence of water damage beyond the risk of structural weakness. That consequence is mold development. Mold is common in the wake of a basement flood or similar disaster, and if you fail to notice an infestation, it can cause costly damages.
Our water damage restoration workers are also IICRC certified mold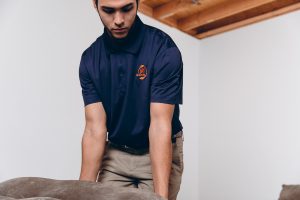 remediation professionals. We believe expertise in mold removal is essential for providing our neighbors with full-service flood cleanup. After your property is clean and dry, our mold remediation crew conducts a full mold inspection. If they discover an infestation, they eliminate it safely and take additional measures to prevent future growth. Some property owners think of mold remediation as a task they can handle themselves. They find home remedies for mold removal online and scrub at growth using household cleaners. This approach is ineffective and dangerous. For one thing, you need a professional mold inspection in order to be sure every colony is removed. Mold often thrives in secret, and mold on your walls can sometimes signal the existence of additional colonies hidden out of sight. Beyond the mold inspection, you need certified professionals to ensure mold remediation is handled safely. By attempting it yourself, you put yourself in direct contact with the dangerous particles mold releases. Plus, our mold remediation specialists have the tools and skills to dry the affected structure to its core. That way, you are far less likely to develop a new infestation.
To make a full recovery from your frozen pipe burst and the resulting mold problem, count on us. Call 911 Restoration of Myrtle Beach for a certified mold inspection.
Servicing the cities of Alcolu, Andrews, Aynor, Bethera, Cades, Calabash, Conway, Cordesville, Coward, Dillon, Effingham, Florence, Fork Gable, Galivants Ferry, Georgetown, Greeleyville, Green Sea, Gresham, Grover, Hamer, Hemingway, Huger, Jamestown, Johns Island, Johnsonville, Kingstree, Lake City, Lake View, Lane, Latta, Little River, Longs, Loris, Lynchburg, Marion, McClellanville, Mullins, Murrells Inlet, Myrtle Beach, Nesmith, New Zion, Nichols, North Myrtle Beach, Ocean Isle Beach, Olanta, Pamplico, Pawleys Island, Russellville, Salters, Scranton, Sellers, Shallotte, Sunset Beach Supply, Timmonsville, Tubeville, and surrounding areas.