Water Damage Restoration in Effingham
If you need water damage restoration in Effingham, don't bother with a basic water removal company. Choose the comprehensive service and Fresh Start mentality of 911 Restoration. Our IICRC certified technicians are here for you 24 hours a day, 365 days a year. They arrive at your property in 45 minutes or less, and they don't rest until your property feels brand new.
As a locally owned and operated business, we recognize how your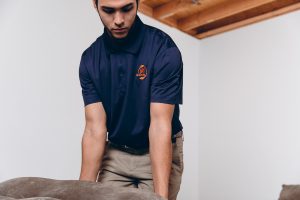 unique property contributes to the beauty of our community. We value our neighbors highly, and we work hard to provide full property restoration for every water damaged property. The truth is, local homes and businesses are always vulnerable in Effingham. From tropical storms to frozen pipe bursts to flooded basements, water damage is a constant threat. We've worked hard to manage that threat with water removal, roof repair, mold remediation, and a wide range of water damage restoration services.
We don't just take care of your property. We take care of you. That means going above and beyond to put your mind at ease. We offer a free visual inspection (for property owners only), as well as a free insurance consultation. During the consultation, you learn which water damage restoration services your provider covers. It may take more than simple water removal to get you back on your feet after a flooded basement. Whether you need drywall replacement or mold remediation, we make sure you know what to expect in terms of coverage. We even assist with loss itemization and bill your provider directly so the worry of insurance is out of your hands.
Your beautiful home or business may be under attack by a frozen by pipe burst today. But with 911 Restoration of Myrtle Beach, tomorrow is a Fresh Start. Call now.
Water Damage Restoration at a Moment's Notice
At 911 Restoration, we never make you wait for water damage restoration.
Even if you call with a flooded basement at 2:00 a.m. on New Year's Day, our technicians will be there in 45 minutes or less. That is our promise to you.
When the water damage restoration crew arrives, their first order of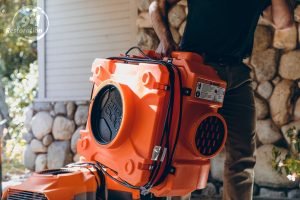 business is to assess the damage. They create a plan for water removal and recovery, and they pack out and store any at-risk belongings. The next steps depend on your most immediate needs for eliminating water from your property. In the case of flooded basement or pipe burst, they begin water removal immediately. If you've experienced storm damage or an ice damage incident, they might focus on emergency roof repair or storm repair to prevent more water from entering. If it's a sewage backup, they extract the blackwater and sanitize the area. In any event, our technicians always follow water removal with structural drying. Eliminating moisture from the core of your structure is crucial for preventing additional damage. However, there are circumstances where damage is unavoidable. That's why the water damage restoration crew also conducts structural testing and mold inspection. If they find any issues, they resolve the damage themselves.
Whatever your crisis is—storm damage, frozen pipe burst, flooded basement, or something else—count on us. The dedicated staff at 911 Restoration is here to resolve water damage in Effingham at a moment's notice.
A Full Recovery from Water Damage in Effingham
When a frozen pipe bursts or sewage invades your property, it's hard to believe your home or business will ever be the same. It feels like all that hard work was for nothing.
At 911 Restoration of Myrtle Beach, we recognize the time and resources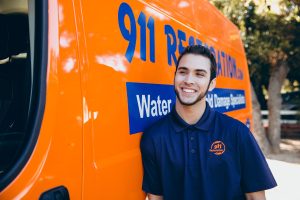 you've put into building your refuge. We believe our job is to make your home or business shine again after water damage.
You see this dedication in our water damage restoration crew after they've completed water removal. Our experts examine your property thoroughly to make sure every structure is solid and strong. They also conduct a comprehensive mold inspection. A mold inspection is extremely important following a water disaster. Mold spores can create a new mold colony with only 24 hours of exposure to a damp surface. Hidden places like basements and inside walls are especially vulnerable to growth. With this in mind, our mold inspection crew examines your property carefully. Once they're certain they've found every trace of growth, they discuss your options with you.
We recommend allowing our mold remediation experts to handle mold removal. Some property owners are tempted to try mold remediation themselves, but there's a reason the pros are pros. Our experts have completed extensive training. They are IICRC certified and know how to eliminate mold safely and effectively. They also have professional tools that allow them to take proactive measures such as structural dehumidifying.
The truth is, you haven't made a full recovery from water damage until you've had a mold inspection and any necessary mold remediation. But not to worry; 911 Restoration of Myrtle Beach has you covered. Call today for the comprehensive service you deserve.
Servicing the cities of Alcolu, Andrews, Aynor, Bethera, Cades, Calabash, Conway, Cordesville, Coward, Dillon, Effingham, Florence, Fork Gable, Galivants Ferry, Georgetown, Greeleyville, Green Sea, Gresham, Grover, Hamer, Hemingway, Huger, Jamestown, Johns Island, Johnsonville, Kingstree, Lake City, Lake View, Lane, Latta, Little River, Longs, Loris, Lynchburg, Marion, McClellanville, Mullins, Murrells Inlet, Myrtle Beach, Nesmith, New Zion, Nichols, North Myrtle Beach, Ocean Isle Beach, Olanta, Pamplico, Pawleys Island, Russellville, Salters, Scranton, Sellers, Shallotte, Sunset Beach Supply, Timmonsville, Tubeville, and surrounding areas.