Trauma / Biohazard / Crime Scene Clean up Services
Quick and Reliable Aftermath Clean up from a Traumatic Event on Your Premises
Contact us now for immediate assistance. We are committed to helping property owners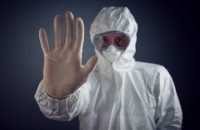 move past tragedies quickly with deep and professional crime scene cleanup Myrtle Beach services and discover a fresh start.
However, bio waste disposal & bodily fluid cleanup should be carried out immediately as it exposes your premises to harmful pathogens. They can swiftly spread around the property and affect your health. If these substances are left unaddressed and not disposed of, anybody who comes into contact & with them can fall sick and develop severe diseases.
Therefore, the first step you need to take in such a situation is to contact 911 Restoration of Myrtle Beach. We specialize in crime clean-up services in Myrtle Beach. The combination of our wealth of experience, unmatched expertise, profound knowledge, and access to the IICRC-certified team enables us to provide efficient & reliable trauma scene clean-up services.
At 911 Restoration of Myrtle Beach, will arrive at your service within or less than 45 minutes with a promise and passion to make your property safe and secure once again. Contact us today.
Professional and In-Depth Trauma Scene Clean-Up and Biowaste Disposal Services
Our areas of specialization include:
Bodily fluid cleanup

Hazardous chemicals disposals

Blood spill cleanup

Homicide cleanup

Hoarding

Chemical spill cleanup
We use the most advanced techniques, technologies, and training to restore properties and ensure peace of mind to clients.
Our team is IICRC certified to control blood-borne pathogens. Rest assured, with us; you will get superior service that meets all OSHA requirements delivered with empathy, professionalism, and integrity.
At 911 Restoration of Myrtle Beach, we use disinfection procedures and sanitization techniques to prevent cross-contamination and restore indoor air quality. From deep cleaning all surfaces and objects to deodorizing and sanitizing them, we get rid of ensuring that your property is safe and secure.
Committed to Helping You Move Past Tragedy and Make a Fresh Start
When a violent death or crime occurs, you shouldn't have to deal with the trauma and clean up alone. Call our crew for help. We'll come equipped and serve you with the utmost care, support and compassion at every step during this stressful time.
Our IICRC-certified technicians at 911 Restoration of Orlando are ready 24/7/365 to provide professional mold removal, cleaning, and disaster restoration services.
We understand that the pain and stress in the aftermath of a traumatic event are overwhelming. 
Contact us now for immediate assistance.