Is Flood Damage Restoration Covered By Insurance?
Those affected by a natural disaster like a flood may be too devastated to know what is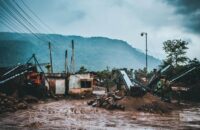 flood insurance and what to do after a flood. However, having this knowledge beforehand can be a lifeline that can lessen the blow of a devastating natural disaster.
Flood damage is a nightmare for every homeowner in Myrtle Beach. As a result, you are probably wondering if your home insurance covers flood damage restoration. In short, your standard home insurance or renters insurance doesn't cover flood damages. To understand more about flood damages restoration and its coverage, you need to know more about flood insurance.
What Is Flood Insurance?
Flood insurance is a type of insurance that covers a resident for losses faced due to a flood. The cause of the flood could be anything from heavy rain, melting snow, or a natural disaster. Flood insurance provides monetary support in case your house has been damaged. The amount is mentioned in the insurance document, and to process your flood insurance funds, you need to file a claim.
How Flood Insurance Works
Flood insurance is catastrophic insurance that protects the homeowner if their property is damaged due to a flood. However, flood insurance only covers your house if it's damaged by an external flood. However, if your property sustained damages from internal flooding such as a pipe burst, your standard insurance is enough to cover this amount. So, you need flood insurance if you live in an area that's not susceptible to flooding.
Flood insurance works like any other insurance. The homeowners have to pay an annual premium, and the insurance company provides monetary support in case of an external flood. Unlike standard home insurance, flood insurance requires the homeowner to purchase separate insurance for the dwellers of the house and its appliances and furniture. Moreover, the dweller might have to purchase separate insurance for sewerage backup if it's not caused by rising floodwater.
What to Do After a Flood?
Now that you know how flood insurance works and what's covered, it's time to understand what to do in the first 24 hours of the flood.
The first 24 hours after a flood are the toughest for any homeowner. You are out of ideas on how to mitigate your flood situation, and you try your best to re-enter your home to salvage what's left. However, you shouldn't barge in.
Instead, you should assess any structural damages that might cause the roof to walls to collapse. After you have made a thorough investigation, you can re-enter the house.
If your house is covered under insurance, you should take pictures of it so that you can show it to the insurance agent. Don't leave any stones unturned when you take pictures. They'll serve as proof of the damage and help you win the compensation you deserve.
If your house was flooded due to an internal problem, it doesn't change anything. You should still take pictures of damaged furniture, broken appliances, and infrastructural damages.
Re-entering your house depends on the infrastructure of your house and the water that's standing inside your house. If your house was flooded due to sewerage backup or the external flood water wasn't clean, it's best to prevent going inside your house.
Avoid stepping into the contaminated water because it can lead to health problems. Moreover, you should immediately call professional water damage repair companies to handle the situation. They have the right equipment and salvage what's left.
You could prevent mold damage if your house wasn't entirely flooded. You can do this by removing the water as quickly as possible. The first place to start is the living room carpet because it can quickly grow mold and mildew.
According to CDC, a mold infestation can be as quick as 24-48 hours. Therefore, it's crucial to act fast. Start by removing water with the help of a pump or a vacuum cleaner. Once that's done, wipe your furniture and don't leave a single drop of water as it can start mold infestation. Call professionals to take care of the issue before the mold infestation worsens.
Avoid Messing With Electrical Appliances
Most people tend to care for their electrical appliances as soon as they get a chance to re-enter their flooded home. However, this can become a grave mistake because if water is standing in your house, there's a good chance that it might be electrocuted.
Therefore, you might experience several electrical shocks if you step inside this water without proper equipment. As a result, staying away from electronic equipment after a flood is your best bet. Moreover, you need to protect your family from electrocution. So avoid stepping inside your house if you see that the electricity supply is powered on.
Water Damage Repair in Myrtle Beach
If your house has been flooded in Myrtle Beach, you can reach out to 911 restoration for help. They have a skilled team of professionals who can easily get the job done. Moreover, 911 Restoration of Myrtle Beach has a response time of 45 minutes, and they are available 24/7 for your assistance. So, don't worry about losing your precious items in flood because 911 Restoration has the IIRC-certified professionals and the right equipment to salvage anything lost in flood. Get water damage assistance now by dialing (843) 242-0309.