How Long Does Mold Take To Spread In a House After a Flood?
There is no denying that mold spores can spread and multiply. One night you go to sleep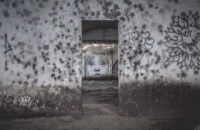 with clean and mold-free walls, and when you wake up, you may see a dark spot on the corner of your rooftop. However, just because you are starting to see the mold now doesn't mean it wasn't there before. 
In this article, we will look at how long mold takes to spread in a house after a flood if you don't do anything (except drain the water, of course). 
How Long Does Mold Take to Spread in a House?
Based on our mold removal and water damage restoration experience, we have found that it usually takes 24-48 hours for mold to grow after extensive water damage, i.e., if you have removed the excess water. On the other hand, the mold development process can become much quicker if the walls are still wet. 
You can start seeing very small dots on the wall that indicate mold within 3-4 days with the ideal conditions. By the 6-7 day mark, you will find that larger colonies will start appearing. These colonies are visible without any effort. By day 12, mold will spread its spores and spread across the building. 
After the 21-day mark, mold starts damaging the structure if left untreated. 
It is important to note that this timeline is only for buildings in peak condition and only suffered from water damage. If your house was also subjected to fire damage, mold could spread much faster.
Burned wood becomes porous and provides a better place for mold to grow its root system. The wood also absorbs more water, which means that the mold grows much faster. 
several other factors contribute to the speed of mold's spread, especially after water damage. 
Factors That Impact The Speed of Mold Spread
Apart from how damp the environment is, other major determinants of how quickly mold will spread include, but aren't limited to:
The type of surfaces and materials

How much moisture has been absorbed

The amount of light. Mold thrives in darker and damper places. 

The overall temperature. Mold spreads much faster indoors compared to outdoors. Similarly, the mold removal process is also much easier for the outdoors. 

How much time do the mold spore spread and grow their root system? 

Level of airflow. If your home is well aerated, but there is nowhere for the air to escape (such as with central air conditioners), mold spores will spread much faster. For mold removal or disaster mitigation, the trick is to aerate your house while giving the air somewhere to exit your house as well. 
As mentioned above, mold spores start colonizing within 24 hours, become visible after 7 to 12 days (depending on the type of mold}, and permanently damage the structure after 18 to 21 days. So, you must deal with water and moisture issues as soon as possible before you start eliminating the mold.
There is no denying that drywall is more prone to attract mold than concrete walls. Not only that, even beyond the 21-day mark, if there is mold on concrete, it can be cleaned off by drying the wall completely and then scraping it off. For drywall, on the other hand, you may need to replace entire panels and their supports if the damage is extensive enough. 
How Extensive The Damage Was Also Plays a Major Role in Mold Spread
Mold's spread is highly dependent on how much water has been absorbed by the wall, roof, and your things. If the water is already dirty or contaminated, mold spread will naturally be faster. This faster spread is possible because sewage water is much more nutrient for mold (and for many plants) than freshwater. 
If the water has been standing in its position for a couple of days, there is a very good chance that mold will grow rapidly in that area. Therefore, mold removal and home restoration companies often suggest that you get the mold removed as quickly as possible.
By getting your home or office dried and repaired quickly after water damage, you can eliminate the risk of mold getting a chance to spread its spores. Remember, it takes more than a week for mold to spread. Home restoration companies will have dried the place up or removed the panel completely by that time. 
Organic Surfaces – The Prime Surface for Mold Growth
And lastly, the most suitable place for mold growth in a house after floods and/or water damage are organic surfaces. Examples of organic surfaces include wood, leather, feathers, straw, and more. All it takes for mold to spread rapidly is one organic surface. 
To avoid this, mold restoration companies often recommend clients use oil-based paints on drywall. 
Mold can be pesky, irritating, and, if not dealt with immediately, very costly. Within 24-48 hours, you may start sensing its presence, and once mold has completely developed, you may find yourself developing allergies and having difficulty breathing. 
It is important that you get your house inspected for mold after a water damage incident, and therefore ensure your own and your family's safety. 911 Restoration of Myrtle Beach is here to help you get a free quote and examine the extent of restoration help you need. Give us a call today and let our mold removers help you live safe!