How Do Board Up Services Work?
If you're living in an area where disasters like hurricanes and tornadoes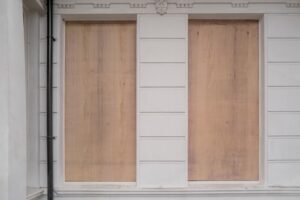 are the norm, board-up services are a must. Board-up services can be used as a preventive measure to minimize damage or can be used after a disaster to secure your home or business, prevent further damage, and limit your liability.
In case your property has damage from unexpected events like storms and other disasters, you'll likely be concerned about securing your property. This article delves into how you can do so with board-up services.
Residential Board Up Services
When hurricanes and storms occur, they can cause extensive damage to your home. Everything from your roof to windows and doors can be affected by water, fire, wind, or fallen objects like trees. Hiring home restoration services like 911 Restoration can help you get the disaster restoration you need.
These experts can examine your property and board up your roof, doors, and windows to prevent further damage to your home and property. In addition to mitigating damage, you also prevent vandals and thieves from taking advantage of the situation.
Commercial Board Up Services
Board-up services aren't just restricted to homes. Businesses can also suffer damage from storms, fires, break-ins, and more. In this case, securing your business and preventing further damage becomes your main priority. Boarding up the property prevents further damage to the structure and protects valuable business equipment and files. This allows you peace of mind until you can get the property repaired and restored.
What You Should Expect
Board-up services help homeowners and businesses prepare for events like hurricanes, tornadoes, storms, and more. They can prevent damage that would have otherwise been sustained by the property in question.
Step 1: Assessment
Home restorations services will arrive on the scene and perform an assessment. This will help them determine what kind of protection is needed. For example, board-up services may target windows and doors or may include roofing. All of this depends on the damage sustained.
The team will also probably document and photograph all the damage they see so that it can be provided to insurance agencies. Disaster restoration services like 911 Restoration work with insurance agents directly to save you time and effort.
Step 2: Measurement
To ensure a proper fit, all the entry points that need to be covered and boarded up have to be measured carefully.
Step 3: Preparation
The company providing board-up services will then cut wooden panels (usually made of plywood) corresponding to the measurements they took so that they fit over the windows and doors that have been damaged. These boards are then labelled and assembled for quick installation.
Step 4: Installation
The boards are installed on the exterior of the windows and doors.
It should be noted that these boards can be stored when they're not in use and can be re-installed when needed. Those who experience storms regularly can use the boards whenever they need protection from the elements. They can also use them to prevent theft and vandalism if the property is vacant, on the market, or undergoing renovations.
How Board Up Services Can Help You
Board-up services not only protect your property but can save you money in the long run. The following are some of the ways that board-up services can be useful.
Preventing Damage or Further Damage
If you live in an area that's prone to storms, boarding up your windows and doors in preparation for storms can save you money by preventing broken windows and other damages. If your home is already damaged, board-up services can prevent further damage by protecting your property and boarding up windows until they can be replaced at a later date.
Preventing Vandalism and Theft
Broken windows and doors attract vandals and thieves, especially when it comes to a property that people don't reside in. Whether it's a foreclosed property or just one undergoing renovations, board-up services are required to prevent vandalism and theft.
Limiting Liability and Retaining Insurance
Board-up services are also essential in limiting liability. Insurance companies are notorious for denying claims for the most minute of reasons. Using board-up services after disasters like storms and tornadoes will likely give you the best coverage for your claim and show your insurance company that you attempted to limit the damage.
Board up Services and Disaster Restoration With 911 Restoration
With South Carolina so prone to disasters like hurricanes and tornadoes, it's always wise to have a plan in place for emergencies. Our disaster restoration services offer just that. 911 Restoration's boarding-up services are excellent for preventing damage to your home or business.
In case the worst happens, our experienced technicians can help you with everything from water cleanup to dealing with insurance. If you live in Myrtle Beach or surrounding areas, you can rely on us to arrive at your property within 45 minutes of your call. We are available 24/7 and can be contacted here for all home restoration services.