Do You Live in A Flood Plain? How to Avoid Water Damage
Flood and water after a storm can cause a great deal of destruction to your house or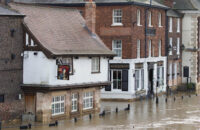 office. If you have been living in a flood area or a floodplain for the longest time, the chances of your house being flooded have increased. The most obvious and prominent thing that you can do to protect your home is flood insurance. 
However, the majority of the people are not aware that the insurance they have covers only minimal water damage, such as your bathtub overflowing, etc. It does not cover the water damage caused by a hurricane, storm, or any other natural disaster. 
Do you live in a floodplain? Consider taking the following steps to prevent a flood from occurring in the first place and if you don't know what to do, contact the experts. 
Elevate Everything
The most simple yet effective way to avoid water damage is to elevate your house above flood levels. 

Ensure that all wiring – electrical sockets, light switches, circuit breakers, etc. are at least one foot above the suggested flood levels. 

It is recommended to keep all your precious belongings as high as possible to avoid any kind of damage. 

If you have a basement in your home, don't expect it to keep your things safe in there – it is risky for you to put anything in that basement for fear of being flooded. 

If you've electrical items outside of your house, such as generators, or inside, such as air conditioners, they all should be placed above flood levels so that they don't end up contaminating the water with fuel.

You can install backflow prevention valves so that minimum sewage takes over your home with the floods.  

Search online for the FEMA flood zone maps, and they will show you the ideal elevation for your address – you can elevate your house according to that to avoid as much water damage as you can. 

You can elevate your house by raising its walls to the right size. 

By moving the lowest floor upward, you can avoid flooding.

Even though it might take time, it is something that you will go through yearly, so it's best to find a solution and relocate all the living space to the floors above and leave the ground floor unoccupied so that there is no loss or destruction. 
Concrete Structure
If you're living in a floodplain area, it is best to build or retrofit your house with all types of flood-resistance materials. If you search up the FEMA recommendations, these will include glass block windows, metal doors, and concrete block walls for lower stories. It is best to add a waterproof coating to the existing walls by creating a bricklayer with a waterproof covering behind it. 
Whenever the water comes into your home, take note of the area where it comes from so that you can fix the issue later. If the flood levels are constantly rising and water is approaching your home, an effective way to cure this would be to use sandbags. These can prevent water from coming through your doorways and any low windows that you've at home. 
Protect Your Utilities
It is important to shield all your utilities from flooding. Ensure that you uplift your furnace, electrical panels, air conditioners, generators, water heaters, washing machines, etc. a way to prevent flood water from backing up into your house through the drains would be to install check valves and sewer traps. 
There are many types of water detection systems, sensors, and alarms that can be installed, and these can be paired with your smartphone so that you get an alert as soon as possible to ensure minimum damage. 
Switch Off All Power  
As soon as you know that your house is about to flood or be flooded, you must turn off all electricity at the breaker. It can get very risky to be in a house with water and electricity. Suppose you fail to switch off all the power and the flood water reaches the level of your electrical systems before you can try off the power. 
In that case, it is advised not to go into the water until the water subsides as you can get electrocuted. After that, you can call an expert water damage restoration to ensure the house is safe.
The minute it is safe for you to switch on the main power of the house, use a wet-dry vacuum, a sump pump, or an electric-powered water transfer pump to suck out all the water there is in the house. Make sure you're in rubber boots at all times to avoid being electrocuted. 
Water Damage Restoration
In case of any water damage crisis, our team of experts is always available to provide you with a speedy service. We are available for you any time of the day or night, and we operate 365 days a year. Our disaster and damage restoration professionals will help with all your water problems. Whatever the flooding situation might be, we can handle it all. All you have to do is give 911 Restoration of Myrtle Beach a call. We will be there to cater to all your needs and help you recover, rebuild, and get ready for a fresh start.